QFloors Gives You Choices
Because One Size Does Not Fit All in Floor Covering Software
QFloors Offers a package for your specific needs.
---
QPro POS+

$50/mo
Learn More
NEW 100% browser-based
cloud software
Flexible, mobile point of sale system customized with
flooring-specific features
Unlimited support for all employees
with purchase
✔ Cloud Offering (advanced)
✔ Customer Proposals & Invoices
✔ Instant Job Costing
✔ Product Catalog/fcB2B
✔ Inventory Management
✔ Drag & Drop Invoice Lines
✔ Kit Catalog
✔ Advanced Notes & Comments Section
✔ API Connectivity with 3rd Party
Request Free Demo
QFloors
as low as
$1,400
Learn More
Complete business management software with
flooring-specific features
Scalable for small to
large companies
First year free and unlimited support and training
for all employees
✔ Cloud Offering
✔ Customer Proposals & Invoices
✔ Instant Job Costing
✔ Product Catalog/fcB2B (advanced)
✔ Inventory Management (advanced)
✔ Fully Integrated Accounting
✔ Vendor Invoicing
✔ Checkbook
✔ Built in CRM/Lead Tracking
✔ Advanced Reporting
✔ Commercial Flooring Module
✔ Multi-Family Housing Options
✔ New Builder/Construction
Request Free Demo
Enterprise

By Bid
Learn More
Robust, complete business management software for very large flooring companies
Includes greater customization for specialized needs
First year free and unlimited support and training
for all employees
Expanded Services as Needed
✔ Cloud Offering
✔ Customer Proposals & Invoices
✔ Instant Job Costing
✔ Product Catalog/fcB2B (advanced)
✔ Inventory Management (advanced)
✔ Fully Integrated Accounting
✔ Vendor Invoicing
✔ Checkbook
✔ Built in CRM/Lead Tracking
✔ Advanced Reporting
✔ Commercial Flooring Module
✔ Multi-Family Housing Options
✔ New Builder/Construction
✔ Custom Programming Available
✔ Executive Level Training, Setup, and Conversion
✔ 25+ Users
Request Free Demo
Software Tool for Multi-Family Housing
Are you involved in multi-family housing?
QOrders is the business-building software tool, specifically created to help flooring dealers with multi-family housing clients.
Once you have set up QOrders, your multi-family housing customers are given access to a website. Your contacts at the management company, apartment complex, etc. can then go to this web form to share information with you about upcoming needs, dates, material, which units, and any other pertinent information. It also gives your client a history of past orders, and what has and has not been paid to this point.
Once your customer has input the information, it is automatically transferred to your QFloors system, and notifies you. Quick and convenient, it saves both you and your customer time, prevents dropped balls and "he said/she said" scenarios, helps you look professional, and fosters loyalty between you and your client.
Pricing: $50 per month. For more than 500 orders a month, there will be a 10 cent charge per additional order.
The benefit of cloud computing is it takes the worry and risk out of your technology maintenance. You don't have to stress about computers going down, servers failing, or loss of your data through theft, natural disaster, or human error. Because your software and data exist in the "cloud" (rather than on a specific piece of computer equipment), you can access it anytime, anywhere -- through your office desktop computers, home computer, laptop, iPad, tablet, smartphone, etc. You just have to have internet connection. Data is automatically backed up for you and stored securely. There's less maintenance and it provides the flexibility to grow with your company without having to invest in additional computer hardware.
Best of all, this service is reasonably priced. Monthly charges start as low as $120.
Run your business on the run! With the products of QFloors Mobile Suite™, you can take care of everything from start to finish (initial measure to payment processing) without leaving your customer's home.
QFloors sells and supports MeasureSquareTM flooring estimation software. Using MeasureSquareTM not only provides you with the best and most mobile-friendly floor takeoff estimators in the industry (including a commercial flooring estimator second to none), but you also benefit from its seamless integration with QFloors products, and the advantage of getting all of your customer support through QFloors' highly rated team.
QFloors has secured a relationship with Heartland Payment Systems. Heartland is a company that meets all of the criteria described in the Credit Card Processing 101 blog post. They use Interchange Plus pricing with simple easy to read detailed statements. They are a "Direct" Processor with no middle men or ISO's. You can get your funds next day on payments batched before 5:00pm EST or in 2 days if batched before 12:00am EST. They are rated very high on customer service. QFloors software is now directly connected to Heartland. So when you run a credit card from QFloors it will automatically be posted inside of QFloors. No other software is required. Best part is if there is a problem you are dealing with QFloors support and not another third party company.
Worried About the Hassle and Downtime of Switching Systems?
hit the ground running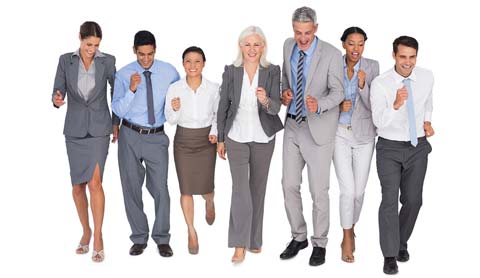 Give your entire team a jump off the starting block with our
4-Day Onsite Conversion and Training
If you're like most floor covering stores, you know you need a better software system, but you worry about the transition. QFloors' 4-Day Onsite Conversion and Training option is a great way to minimize downtime and help your entire team quickly come up to speed. We travel to your location, and in just 4 days train your entire staff and convert your business from what you were using to QFloors. Customers tell us this is an optimal way to hit the ground running. Contact us for details and pricing.
Or, as another option, we now offer Virtual On-Site Training. This is a good option for focused, concentrated training when an on-site conversion is not feasible. With a Virtual On-Site, a QFloors trainer will set up a webinar with your store and conduct the training remotely. The webinar can be joined by up to 25 employees, and is recorded for future reference. More information on this new option can be found in this article by clicking here.
Free Training & Support
With the purchase of QFloors our customers receive
One year of unlimited training and support (online and telephone), as often and for as many individuals as needed.
Free 2-day training courses as often and for as many employees as you wish (held regularly in Salt Lake City, travel expenses excluded)
Free webinars and training videos
Access to free additional training materials
---
Outstanding Customer Care
In a 2016 customer survey, when asked to rate the QFloors support team's patience, kindness, and compassion, a whopping 97% of respondents gave us top marks! The remaining 3% rated us "average", with no ratings falling below that.
When you call for help, the people answering the phone are not dime-a-dozen telephone operators. They are highly skilled professionals who bring combined expertise in business, accounting, technology, and the flooring industry in general. More importantly, to put it simply, they care.
We want you to take advantage of every time-saving, cost-cutting and profit-building benefit that QFloors can bring. We're committed to doing all we can on our end to help each and every employee of yours understand how to use the system.
So go ahead, put us on speed dial. We're happy to hold your hand every step of the way. Contact us today for more details.
---
QFloors is the only floor-covering software that provides a solution for all types of businesses.
Because companies range so widely in size and situation, it's ridiculous to think that the same software would work for everyone. So QFloors offers a variety of product packages, each with diverse features and different database technologies.
In this, we are unique.
Why? Our competitors basically sell the same vehicle to everyone. They may offer packages with extra add-on options like estimating, B2B functionality, etc. But they provide the same database technology to everyone, large or small. Typically they tell you it works for anyone's needs, regardless. In other words, one size fits all.
Some software products are built with database technologies intended for smaller operations. This kind of product works well for small "mom-and-pop" stores. The main advantage is price. (Database technology can greatly affect the cost of a system.) But if a store gets too large, tries to add more "users" (computers), or gets too much data in their system, performance suffers and the system can eventually become unusable.
On the flip side, a few flooring software suppliers have high performance databases that can handle large amounts of data and a lot of features. This is beneficial for large companies possessing numerous computers and multiple locations. However, smaller dealers pay a great deal of money for a system they don't need. These software companies typically justify the purchase by telling customers that they will eventually "grow into" the product. But just because a 2-year old will grow does not mean he should wear shoes sized for a 12-year old. It would make walking very difficult.
The message is clear. Different needs require different solutions. That's why QFloors offers a wide variety of products, with a range of features and database technologies.