Why Should You Seriously Consider Flooring-Specific Software?
There are dozens of benefits that software customized for the flooring industry can bring to a business owner, that generic solutions like spreadsheets or off-the-shelf accounting software (like QuickBooks™, for example) cannot.
QuickBooks™ is a registered trademark of Intuit, Inc.
QFloors Benefits vs. Using Generic Accounting Software:

Software created with flooring in mind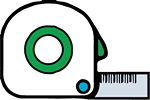 Measurements are flooring-specific (sq. feet, sq. yards, linear feet, etc.)

Meticulous inventory tracking and tighter controls

Automatic sales commissions calculations

Instant, accurate, user-friendly job costing, right on the proposal screen

Automatic sales and use-tax corrections help prevent you from paying too much or too early

Automatic California CARE tax tracking

Labor tracking modules help you easily track contractor payments.

Via fcB2B you can import price lists, product catalogs, shipping information, etc.

Easy for all employees to learn and use (rather than just the back office)

Helps you grow without needing to hire more people

Accurate Sales and Cost of Goods Sold recognition
Get Ready to Shift to a Higher Gear
QFloors helps your business put the pedal to the metal so you can make more money, with less effort and overhead.
Using the right tool (or bike) makes all the difference.
Whether mountain or road bike, a bike with multiple gears helps us to get where we are going quicker and more easily. The same thing applies when you examine the difference of using basic spreadsheets or accounting software ("one-gear" tools, designed for any sort of business) or floor-covering business software (a "multigear" tool, customized to maximize your operation in every way).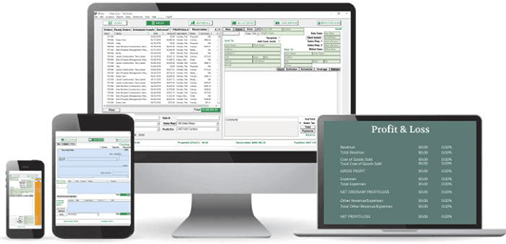 Light-years ahead of QuickBooks.
MIKE PHOENIX | FLOOR DECOR
These "one gear" systems will only allow you to progress so far, and you'll eventually wear out, trying to keep up as your business grows and becomes more complex.
Flooring-specific management software (also called ERP software) provides efficiencies that will allow the dealer to do more business with less cost, providing a more profitable business. The automation saves time and effort, allowing you to have a life outside of work.
How does QFloors help your bottom line?
Watch this short video excerpt, in which QFloors president Chad Ogden shares an example of the dollar difference QFloors can make.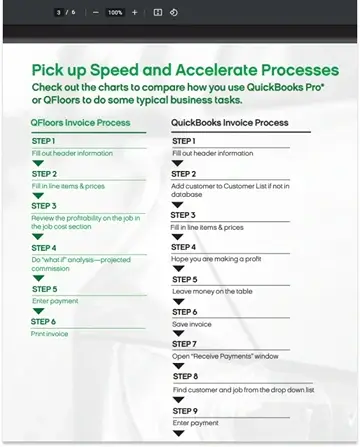 See How QFloors and Generic Accounting Software Processes Compare...
Download Brochure