4 Tips to Ensure You Are Getting Important Email Updates
"In teamwork, silence isn't golden, it's deadly." — Mark Sanborn, leadership speaker and author
Here at QFloors, we view customers as business partners. And because of that, we want to make sure that all of our customers are receiving important email communications regarding software feature updates, upcoming training and events, and outage statuses (if needed). We try not to blast our customers with emails to the point of overkill. However, we value the relationships we have with our customers and understand that communication is essential to maintaining and strengthening those relationships.
Below are 4 tips to ensure your company receives important email updates from QFloors:
1. Make sure the right email is listed as our primary contact.
This is probably the most common issue that we see. If you are the main primary contact for your business and haven't been receiving emails (not even in your spam or promotions folders), this may be because we have an outdated email or ex-employee on file listed as the primary contact. To ensure we are using the correct email and main contact information for your store, please fill out this form. While we're on the subject, if you need to update other information within your account (address change, billing updates, phone number change, employee/user updates, etc.) please call Irene at 801-563-0140 (ext. 112) and she can help you get squared away.
2. Make sure you haven't unsubscribed to our emails.
In the past, we have had a few customers unsubscribe to our emails - thinking they were optional. However, unsubscribing doesn't only remove you from receiving promotional emails, but our essential support emails as well. So if you remember unsubscribing at any point, you will have to email Irene (irene@qprosoftware.com) and let her know that you want to be added back in. The good news is right now we're in the process of moving to segmented topic email lists fairly soon, meaning that in a few months customers can have more control over the types of emails they receive. We're still testing this out but will let you know when these changes are in place.
3. Check to see if emails are going to your spam folder.
It's typically rare if our emails get sent to a spam folder. But because our customers have different email providers and security settings, sometimes this occurs. Click on your spam folder in your email, and see if you can see any emails from QFloors Support. If so, it's really easy to unmark these emails as spam. Telling your email provider that these emails are not spam will help them not mark them as such in the future.
If you see an email you don't want in the Spam folder, just click on the email. Then, usually at the top or where your email settings are, you can click on an option to "Restore to Inbox" or "Mark as Not Spam."

4. Check to see if emails are going to a promotions folder.
If you're using Gmail, you will want to check to see if important emails are going to the "Promotions" tab/folder. Click on the "Promotions" tab and see if you can see emails from QFloors Support. If you do, please complete the following steps:
In the "Promotions" tab, select the check box next to an email from QFloors Support.
Click the 3 dots at the right end of the tool strip above the inbox
Click on "Filter messages like these"
Click the "Create filter" button at the bottom of the search panel
Check off the "Categorize as" checkbox
Click the "Choose category" dropdown menu and select "Primary"
Hit "Create filter", and you're done!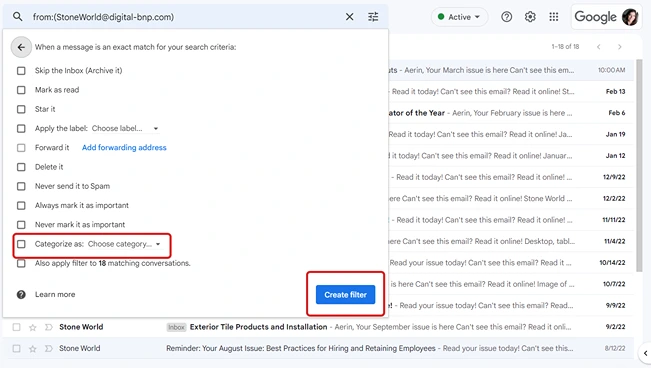 This article gives screenshots to illustrate how to do this, as well as additional information that could be helpful (such as removing your Primary tab altogether, making your Primary tab appear, etc.).
IMPORTANT! To better streamline our customer emails, we are going to start using a new email service for customer communications. Because of this, you might see QFloors Support emails in your spam/promotions folders - even if you haven't before. I know it's tedious to follow these steps, but doing so will ensure we get the right messages to the right people in your organization.
Not good at email? Join our QFloors Facebook Users Page!
I understand that some of us here are probably not the best at opening and responding to emails. If that's the case, please take advantage of our QFloors Facebook Users Page. This private group is only for QFloors customers, and contains a lot of the same information that gets emailed out to everyone. It's a great way to stay current on updates (not to mention, it's also a way to connect with other QFloors customers like yourselves). You can request access to the group by visiting this link: https://www.facebook.com/groups/189860772286647 and responding to the membership questions.
Don't forget that in this group you can ask other members how they utilize QFloors. We want this group to be a positive place where our customers can collaborate with others like themselves.
By keeping all of these things in mind, you'll be able to ensure your company is getting essential information and updates from QFloors. Thanks so much for your partnership and support. Excited for the future!