QFloor's 20th Anniversary Users Conference
Hopefully you've seen information in your inbox about our upcoming Users Conference. Celebrating QFloors' 20th Anniversary, and held amid the stunning scenery of Zion National Park, it is a not-to-be-missed event.
"Explore the Possibilities" is the conference theme, and activities will be a mix of training, networking, and collaboration, with plenty of time to explore the extraordinary landscape of Zion National Park on your own. The conference will be held November 5-8, 2019 at the Marriott Springhill Suites in Springdale, Utah, one mile away from the entrance to the park.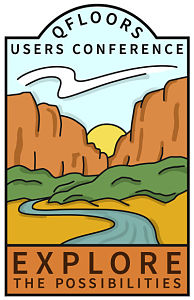 Pricing is $1200 per room, which includes 4 nights lodging (checking in Monday 11/4/19 and checking out Friday 11/8/19), all training sessions for one person, and some meals. The cost for each additional conference attendee (same room) is $400. Extra lodging above 4 nights is $195 per night and must be arranged through us to get the discounted price.
Suites include two queens or one king bed, with a sofa trundle. A limited number of larger suites are available, on a first come, first serve basis. Contact Kaleigh (x115 or Kaleigh@qprosoftware.com) for pricing on those.
Please note that conference pricing does not include transportation to/from the conference, Zion National Park passes, some meals, and any individual recreational expenses.
Should you wish to procure your own lodging elsewhere, you may attend the conference for $400 per person if you are current on your maintenance.
While specific classes are still being nailed down, topics that are currently penciled in include: project management, financial analysis and benchmarking, new features and products, QPro, QView, MeasureSquare, product catalog cleanup, bookkeeping, "did you know" tips, a customer panel and a development roundtable.
Like most national parks, Zion is not right off the interstate. It takes some effort to get there, but we think it's worth it. The nearest international airport is McCarran Intl Airport in Las Vegas, Nevada, which is a 2 hr. 45 min drive. Two smaller regional airports are St. George regional airport (nearest in proximity), which is one hour away, and the Cedar City Regional Airport, which is also a one hour drive. Salt Lake City Intl Airport is a 4.5 hour drive to the hotel.
Register today! This is going to be a very popular event, and space is limited, so register today by clicking the button below. Please note a $300 non-refundable down payment is required to reserve your spot.